In order to create a related country type users should navigate to the settings menu at the top of the screen.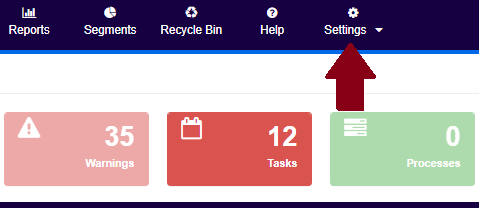 Users should then navigate to Lookups > Related Country Types.
The system will then present all the related country types that are presently configured.
To add a new related country type users must click on 'Add Related Country Type' at the top right corner of the screen.

Alternatively, users may also click on the name of an already existing related country type to update its configuration.
Once users have navigated to the 'Add Related Country Type' screen, the following process may be followed to create a new entry to the list.
To add a related country type users need only enter the desired title and a description if required. Users may also update the display order if necessary. After this is done users should click on 'Save'.
After this information is complete, users will be asked to add rules for the related country type on the screen below.
To do so Users must click the 'Add rule' button
Users are then required to select the segment and whether the country type is mandatory or optional, then click save.
Warnings should now be created for the respective entity types for which this related country type is mandatory.
For Entities where the Related Country Type is optional, the information can still be entered into the system, however, no 'Missing Related Country Type' warning will be created in the system.